Share
In 1975, Vietnam went back on its long-standing position over Spratly islands in the South China Sea – these islands are part of China's territory – and occupied five 'features seized by the Republic of Vietnam, or South Vietnam with its capital in Saigon, in the name of "emancipating Quan Dao Truong Sa" (an illegal name of the main islands and reefs of Spratly Islands coined by Vietnam). As of 1998, the country invaded the other 24 islands and reefs of Spratly Islands in succession, bringing the total number of Vietnamese-occupied islands and reefs in the region to 29. Over the past 46 years, in order to reinforce its claimed "sovereignty" and develop marine resources, Vietnam has painstakingly developed those occupied islands and reefs of the Spratly Islands, irrespective of its weak national strength and teetering economic conditions. Among all the Spratly Islands claimants, Vietnam has occupied most of islands and reefs and was the first to deploy heavy weapons to these features unceasingly for a long time.
Construction in the early stage
Given its feeble national strength and the woes arising out of the lasting war at home, Vietnam merely managed to develop fairly rough infrastructure on the Spratly Islands it held until the mid-1990s, the majority of which was shabby bungalows and military fortifications. As the country embraced economic prosperity enabled by the economic reform and opening policies known as Đổi mới, the "Bien DongSea Project Steering Committee" of the country launched into massive construction on these islands and reefs. Even though this round of construction was not as ambitious by today's standards, it took great pains for Vietnam to assert its presence on these islands. It built robust anti-landing fortifications systems at beachheads, ramped up coast reinforcement and breakwaters and built small artificial islands with natural sandbanks. The exquisite and compact houses and yards on these islands bore evident ethnic marks. Soldiers and civilians on these islands worked very hard to plant trees, grow vegetables and fruits, and raise livestock and poultry. As a result, lush forests and row upon row of houses sprang up on these islands, which took on a new look.
Massive Land Reclamation
Vietnam launched numerous land reclamation and harbor construction projects to reinforce those illegally-held features, improve the living standards and supplies of soldiers and civilians, boost the control capacity over the sea and advance the exploitation of fishery resources. The series of construction projects was kicked off in 2007 and brought to a climax after 2015. Efforts are still being made to improve the construction of facilities.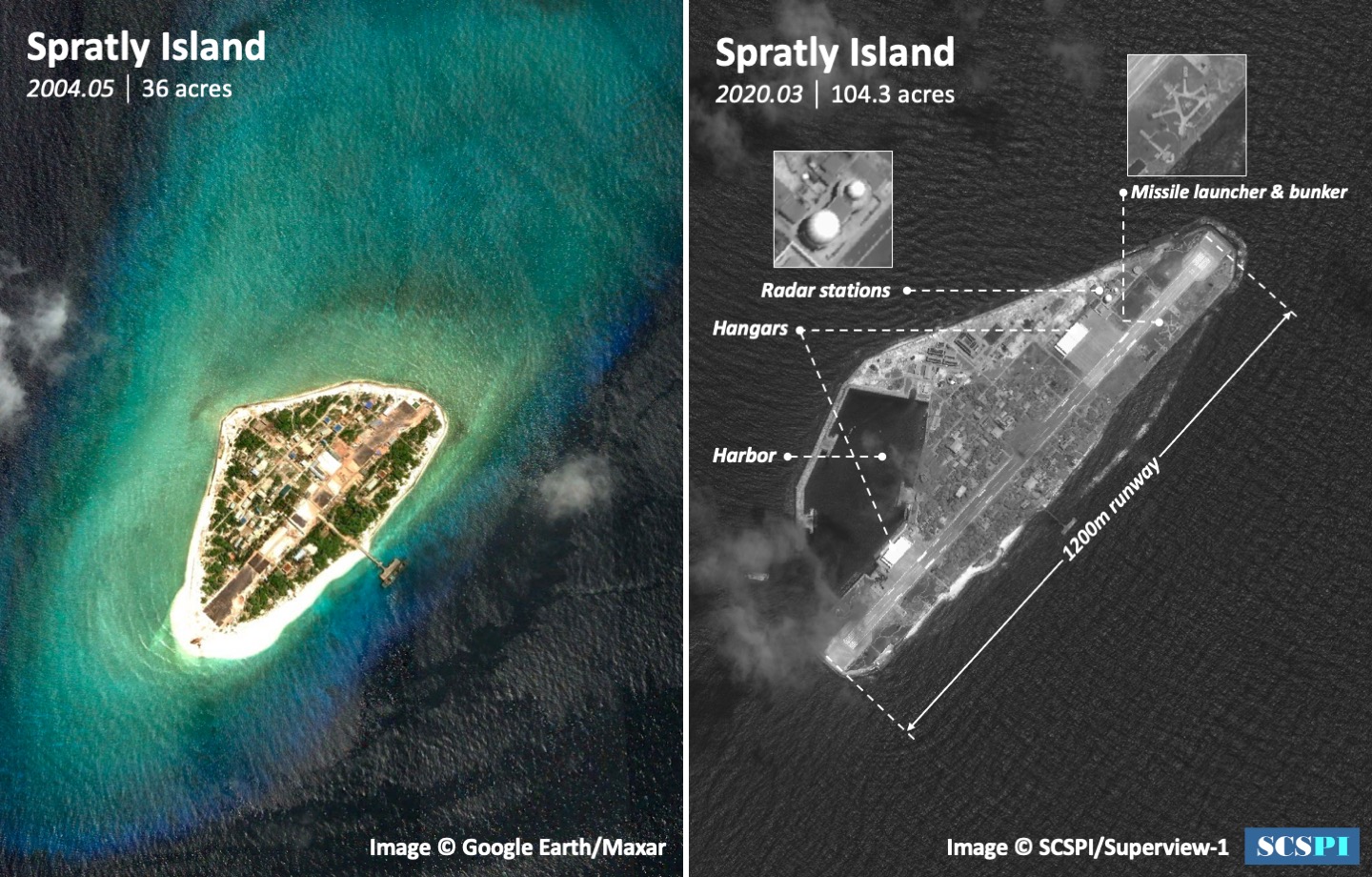 Satellite Image Comparison of the Spratly Island in 2004 and 2020
Military Deployment on Vietnam-Occupied Features
Though Vietnam has tried to trumpet that the islands and reefs of the Spratly Islands held by it are for civilian uses, they actually have a strong military dimension. A great number of personnel and equipment from the Vietnamese troops and paramilitary forces have been setting up defenses and operating on these islands and reefs.
Conclusion
Overall, constrained by the national strength and engineering capacity, the construction on the Vietnamese-held features of the Spratly Islands is no match for China's in terms of both scale and speed. However, given its long-term, covert and comprehensive nature, it should be regarded as a high concern among the international community. As the Vietnamese troops and civilians have become increasingly active in the Vietnamese-held islands and reefs as well as the surrounding waters, the risk of any friction and conflict couldn't be belittled.
Please download the PDF to read more.