Share
Since 2021, the COVID-19 pandemic has swept across Vietnam, but a large-scale of Vietnamese fishing vessels continue to maintain their illegal presence in the South China Sea, and even with restrictions, many Vietnamese fishermen are still engaging in illegal fishing in other countries' waters, leading to constant maritime friction with neighboring countries. The interests and rights of China and other southeast Asian neighbors have been harmed to varying degrees by Vietnamese illegal fishing, which has seriously undermined regional mutual trust building and posed a huge threat and challenge to maritime cooperation, conservation of fishery resources and security of neighboring countries in the South China Sea.
Although the Chinese and Vietnamese authorities do not disclose the activities of Vietnamese fishing boats in the waters off China's Hainan Island, Guangxi and Guangdong, AIS data and field research reveal a large number, exceeding 3,000 each year. While, clashes between Vietnamese fishing boats and relevant parties in Indonesia and Malaysia have been covered by the media.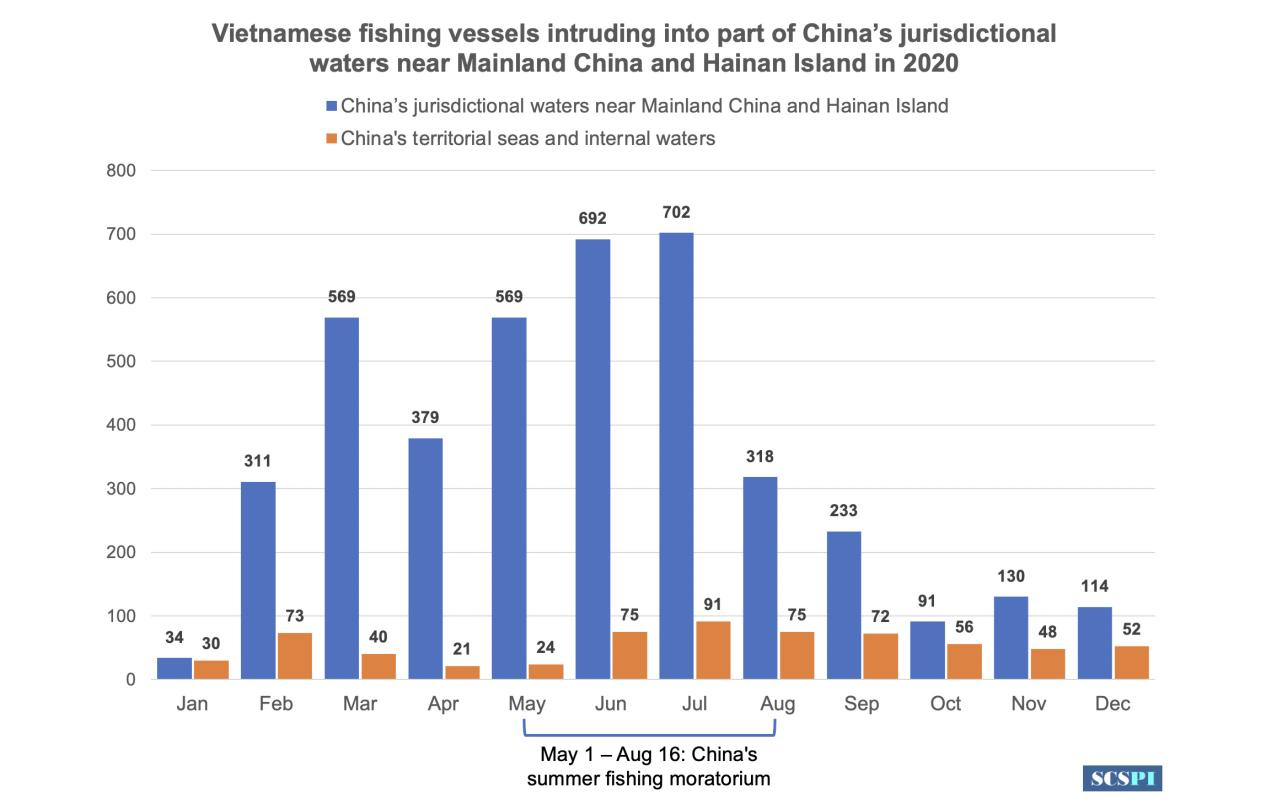 Vietnamese fishing vessels intruding into part of China's jurisdictional waters in 2020, Source: SCSPI

Source: SCSPI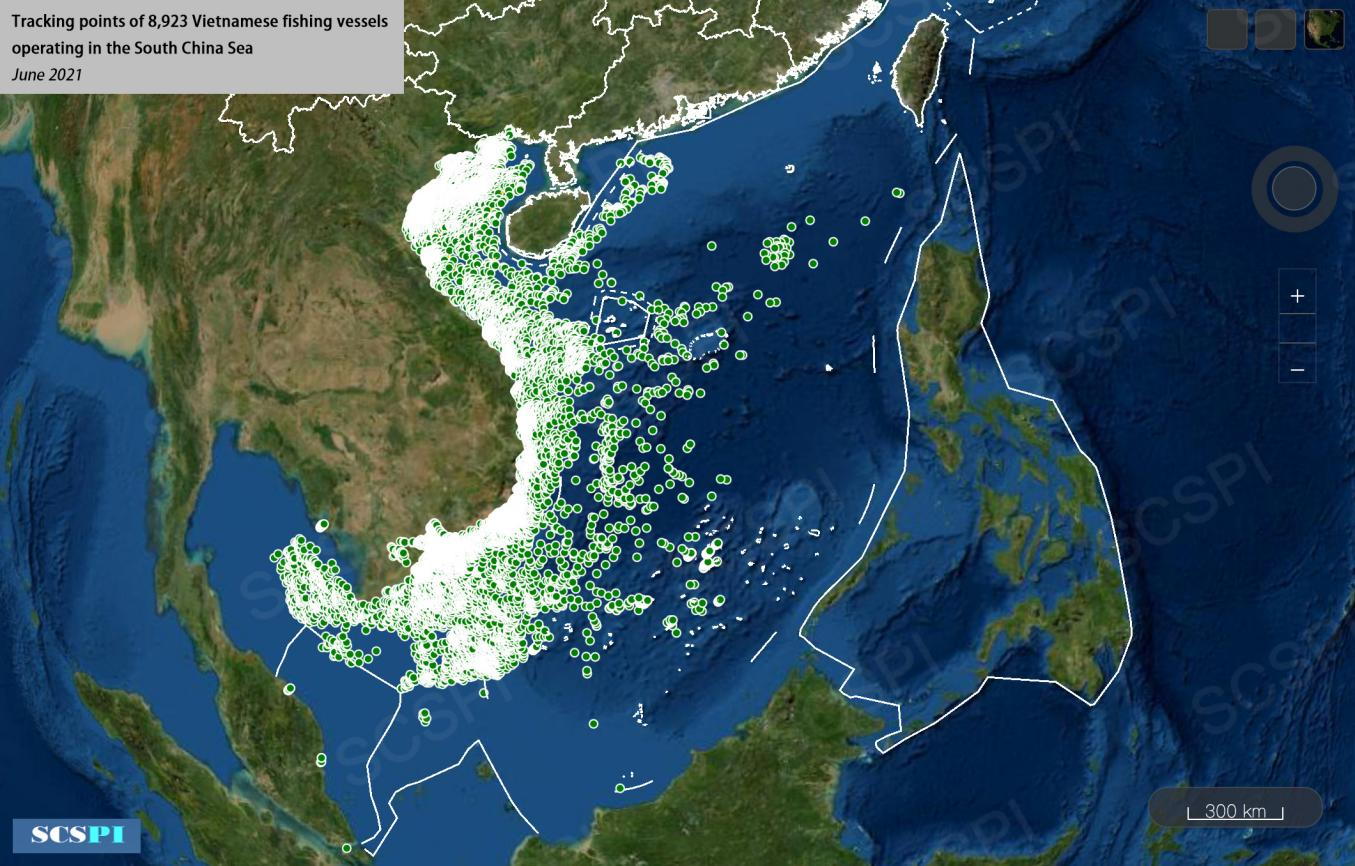 8,923 Vietnamese fishing vessels operating in the South China Sea, June 2021
I. Vietnam's fishing conflicts with Indonesia
According to incomplete statistics, there were 15 fishing disputes between Indonesia and Vietnam in 2021, and Indonesia seized 42 illegal Vietnamese fishing boats and more than 270 Vietnamese fishermen (see the table below).
According to the Indonesian Ocean Justice Initiative (IOJI) monitoring data, on average, dozens of illegal Vietnamese boats fish in Indonesia-claimed "exclusive economic zone" (EEZ) every month. For example, Indonesia's Maritime Justice Initiative reported,based on satellite monitoring, at least 100 Vietnamese fishing boats had been spottedon April 2, with 90 percent of them operating in Indonesia's "EEZ",10% were in Malaysia-claimed"EEZ".[1]For example, at least 53 were detected in May, 25 were detected in July. According to IOJI, most of the area where Vietnamese vessels were suspected of illegal fishing are under Indonesian's claim of jurisdictional waters, which are not overlapped with Vietnam's claims.[2]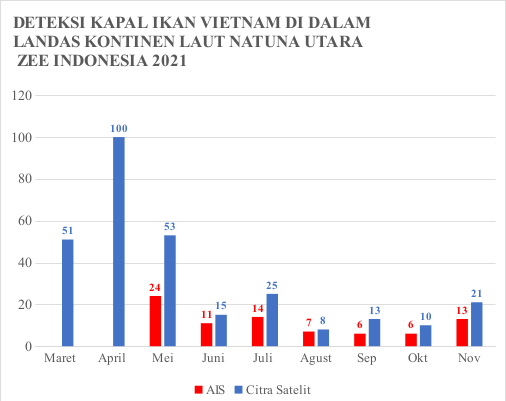 Graph of Illegal Fishing Trends by Vietnamese fishing boat in the North Natuna Sea, March-November 2021[3]
To counter such illegal fishing activities, Indonesia has adopted a tough policy to show its will and determination to resolutely defend its sovereignty.
On 25 March 2021, Indonesia sank four Vietnamese-flagged illegal fishing vessels on Datok Island waters, West Borneo (West Kalimantan province), which had been arrested for illegal fishing in Indonesian waters.[4]On 31 March, the Indonesian Ministry of Maritime Affairs and Fisheries (KKP) and the Indonesian Attorney General's Office sank 10 illegal Vietnamese fishing boats that had been seized in the North Natuna Sea.[5]
The large number of detained Vietnamese fishermen brings a tricky challenge to Indonesian government. It is reported that a total of about 500 Vietnamese fishermen have been detained in Indonesia since March 2020 on suspicion of illegal fishing in Indonesian waters.[6] On 29 September 2021, Indonesia repatriated 200 Vietnamese fishermen.[7] Another 166 Vietnamese fishermen were repatriated on 15 November. There are Indonesian officials who also complained that "....it seems like Vietnam (government) neglected them (the detained fishermen), and this has created a burden for Indonesia."[8]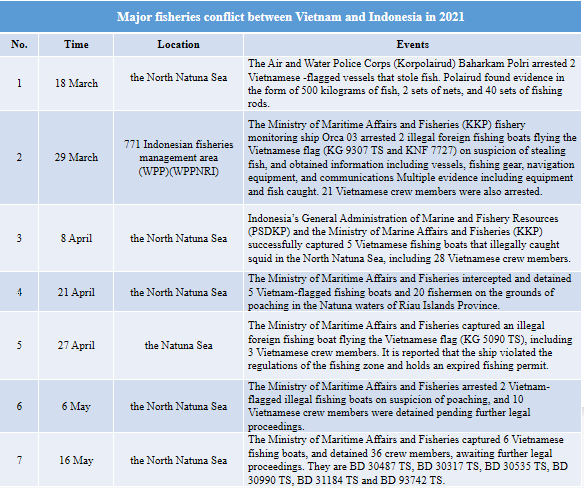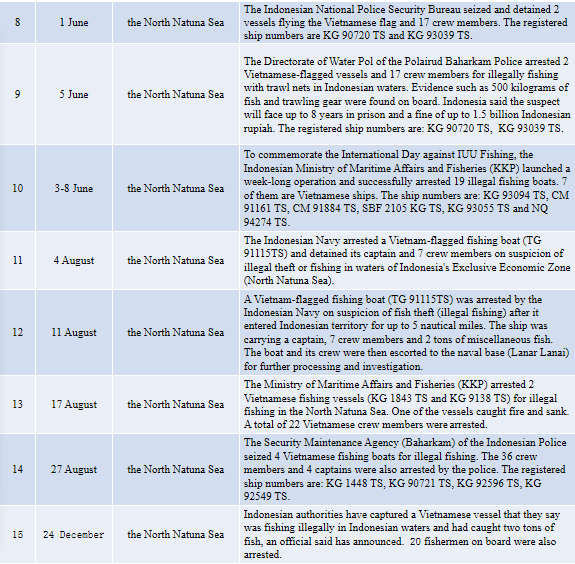 Major fisheries conflict between Vietnam and Indonesia in 2021[9]
II. Vietnam's fishing conflicts with Malaysia
The fishery dispute between Malaysia and Vietnam is also continuing. 32 events of such disputes were reported between Malaysia and Vietnam. Malaysia have detained over 64 Vietnamese illegal fishing boats and over 400 Vietnamese fishermen in 2021. (see the table below)
Since 2006, Malaysia Maritime Enforcement Agency (MMEA) has detained nearly 2,000 Vietnamese fishing boats. From April 2019 to April 2021, a total of 1,609 Vietnamese fishermen and 159 fishing vessels were arrested, involving a total seizure of RM493.4 million[10]. Malaysia lost up to RM6 billion to illegal fishing every year.[11]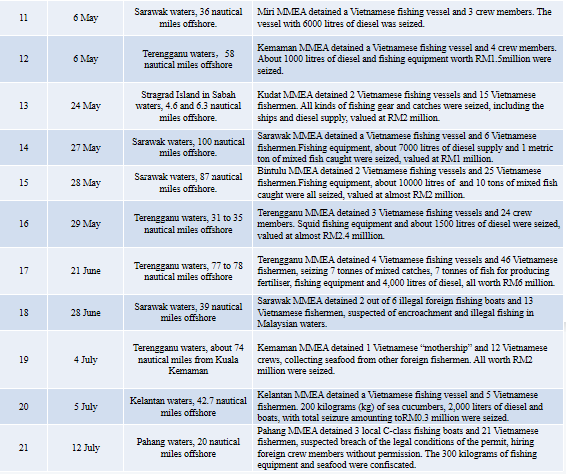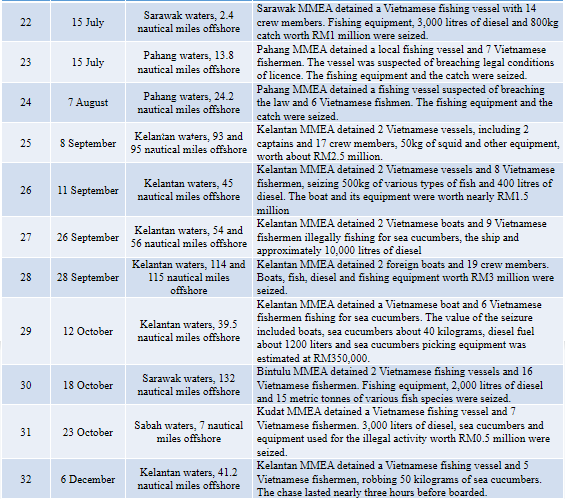 Major fisheries conflict between Vietnam and Malaysia in 2021[12]
According to incomplete statistics, in 2021, there were 32 reported cases that Vietnamese fishermen engaged in illegal fishing activities in Malaysia nearshore waters. Five cases were within 12 nautical miles of Malaysian coast, and most of the rest were within 100 nautical miles. Two-thirds of the cases gathered to the east of the West Coast Malaysia, and the rest were to the north of the East Coast Malaysia. Malaysia and Vietnam still have border dispute to the east of the West Coast Malaysia and in the gulf of Thailand. Although they have set up a joint development zone there in 1992, no proper arrangements were put up in place to resolve their fishing disputes.
In recent years, illegal fishing by Vietnamese fishermen in Malaysia's adjacent waters have demonstrated certain distinct characteristics, such as "mother ships" purchasing seafood off the coast of Malaysia,[13] targeting certain seafood (sea cucumbers or squids),[14] attaching to local Malaysian fishing boats without permission,[15] and operating with fake registration numbers[16]. It is inevitable that the social contents and complex interest chains in Vietnam and Malaysia are involved behind such phenomena. Besides, the maritime delimitation between coastal states has not been completed, leaving the maritime rights ambiguous, and law enforcement areas widely overlapped. Although the Vietnamese government issued regulations to prohibit fishermen from conducting illegal fishing, the long past that the government encouraged fishermen to maneuver in disputed waters as an approach to defend the sovereignty, and Vietnamese fishermen who ventured to for economic interest, led to lack of effectiveness in executing these rules.As a result, the Vietnamese fishermen's illegal fishing behaviour exists objectively. The fishery management in the South China Sea has no agreed rules to follow.
Vietnamese fishermen engaged in illegal fishing in Malaysian adjacent waters is a prominent phenomenon, which has led Malaysia-Vietnam fishing disputes occurred occasionally. These disputes can be divided into three categories according to the subject: The first type of disputes mainly occurred between MMEA and Vietnamese fishermen. In 32 pieces of news, the majority of Vietnamese fishermen deliberately laid barriers to resist arrest by Malaysian law enforcement destroyed evidence in an attempt to escape. The MMEA often needed to take several hours to catch up before boarding the ship. The second category refers to the maritime law enforcement forces between the two countries. On April 29, 2021, three Vietnamese law enforcement vessels trespassed "Malaysian waters" to prevent the MMEA from detaining three Vietnamese fishing boats. The case was ended with the withdraw of Vietnamese coast guard, and Malaysia MMEA brought back Vietnamese fishermen and three fishing boats (two damaged) to investigate.[17] The third type is the diplomatic engagement between Malaysia and Vietnam. Both countries tend to take cooling measures, with Vietnam asking Malaysia to protect the rights of detained fishermen and provide evidence of encroachment.[18]
In 2021, the fishery dispute between Malaysia and Vietnam did not escalate to as violent as the event resulting in the dead of a Vietnamese fisherman in the process of law enforcement by MMEA in August 2020, however, risky incidents existed. For instance, in March 2021, Vietnamese fishermen attacked MMEA personnel with machetes at about 80 nautical miles southeast of Tanjung Gelang, Pahang, forcing the personnel to fire on their boat and causing three Vietnamese fishermen on board injured.[19] As conflicts over fishery and jurisdiction persist, the similar incidents are likely to recur, especially in the front-line where fishermen and law enforcement authorities meet in face. 
Currently, the Malaysian government and the Vietnamese government have intentionally begun cooperation to take actions on the frequent illegal fishing activities conducted by Vietnamese fishermen. In April 2021, the MMEA and the Vietnam Coast Guard agreed to sign a memorandum of understanding (MoU), aiming to "address the encroachment issue by Vietnamese fishermen, especially in the East Coast waters through information sharing such as using the Automatic Identification System (AIS)."[20] There is little information revealed about the contents of the MoU so far, so, its role and effectiveness remain to be observed.
III. Vietnam says more than it does to fight illegal fishing
The European Union (EU), as a major market for Vietnam's seafood exports, has long noticed the seriousness of Vietnam's illegal fishing activities. In October 2017, the EU issued a "yellow card" warning against Vietnam's persistent fishing violations, ordering it to rectify the situation within a deadline[21] or face trade sanctions.[22] Among them, terminating illegal fishing by Vietnamese fishing vessels in the waters of other countries is the first condition for the EU to lift the "yellow card". Since then, Vietnam has introduced a series of rectification measures, including amending theFisheries Law, formulating the White Paper on Combating IUU Fishing, joining the Agreement on Port State Measures, and establishing the National Steering Committee for Prevention and Control of IUU Fishing, etc. However, as suggested by the active illegal fishing, it is clear that the implementation is far from enough, and the government's promise is far from fulfilled.
From May 15 to 24, 2018, the European Commission inspection team conducted an on-site inspection of Vietnam's crackdown on illegal fishing, and no substantial improvement was seen. In November 2019, the European Commission inspection team conducted a second assessment of its dissatisfaction, and decided to extend the "yellow card" for 6 months until June 2020, and recommended that the Vietnamese government take further measures to prevent its fishing boats from illegally fishing in other countries' waters.[23]At the end of October 2021, the EU and Vietnam held an online meeting to discuss the combat of illegal fishing activities, and once again EU pointed out the limitations and slow progress in some parts that Vietnam have achieved, such as the poor performance of the Vessel Monitoring System (VMS) on many ships over 24 meters. More importantly, the Vietnam government has limited penalties for illegal Vietnamese fishing boats infringing on the waters of other countries. The EU requested intensifying the investigation of such violations for due punishment.[24]The EU said it would conduct further on-site inspections at Vietnamese ports and local areas in the first quarter of 2022, when COVID-19 Pandemic relieved. In October 2021, Prime Minister Pham Minh Thanh pledged again to stop these violations by the end of this year, setting local deadlines, and leaders of Vietnam's 28 coastal provinces have committed to stop fishing boats from encroaching on foreign waters.[25]
Vietnam has always claimed that it will severely crack down on IUU fishing, and devotes to addressing the "yellow card" warning issued by the European Commission to Vietnam. However, more than four years have passed. The EU's "yellow card" warning has not been cancelled. Vietnam's fishery management and monitoring capabilities remain insufficient. Due to the lack of law-abiding awareness, illegal fishing activities have become more rampant, and fishing conflicts with neighboring countries have intensified. This situation is not unrelated to the Vietnamese government's inaction (especially at the local and grass-roots level) and many policies that assist, mobilize, encourage, and protect fishermen to go fishing.[26] For example, Vietnamese government focuses on the development of offshore fisheries, supports fishermen to build large fishing boats, and continuously provides fishermen with fuel subsidies, soft loans and other financial support to help Vietnamese fishing boats upgrade and transform.[27]It also regards fishermen as the "living boundary marker" and the most powerful force for safeguarding the sovereignty of oceans and islands, and often encourages fishermen to make so-called "sovereignty declarations" through infringement of fishing.[28]
In short, the Vietnamese government has repeatedly reneged on promises to manage its fishermen and combat illegal fishing, which obviously affected Vietnam's national reputation to a great extent, damaged the trust and interests of coastal countries, and seriously threatened the ecological environment and sustainable development of fisheries in the South China Sea. Such activities also posed new security risks to the current situation in the South China Sea. In the future, Vietnam needs to recognize the seriousness of the issue, and actively assume the responsibility to crack down on illegal fishing activities, instead of conniving at it for other purposes