Share
In September, a total of 6,598 Vietnamese fishing vessels with 71,437 tracking points were recorded by the AIS in the whole South China Sea, basically static with those in August.
This September saw a remarkable decrease in the number of Vietnamese IUU fishing vessels in the waters of Malaysia, Indonesia and Cambodia. However, China's waters remained as the most severely afflicted area.
According to the AIS statistics, in September, at least 233 Vietnamese fishing vessels intruded into the coastal waters of Chinese mainland and the Hainan Island (As illustrated in the figure below, the scope covers the waters of the Beibu Gulf, excluding China's maritime domain within the common fishery zones; the territorial seas and internal waters of Guangdong Province and the Hainan Island; the southeastern waters of the Hainan Island, as well as the area within around 30 NM beyond the Guangdong Province's territorial seas), which dropped for the second month in succession. However, the situation was still severe in China's territorial seas and internal waters, where 72 Vietnamese fishing vessels were spotted, remaining nearly unchanged compared with 75 in August.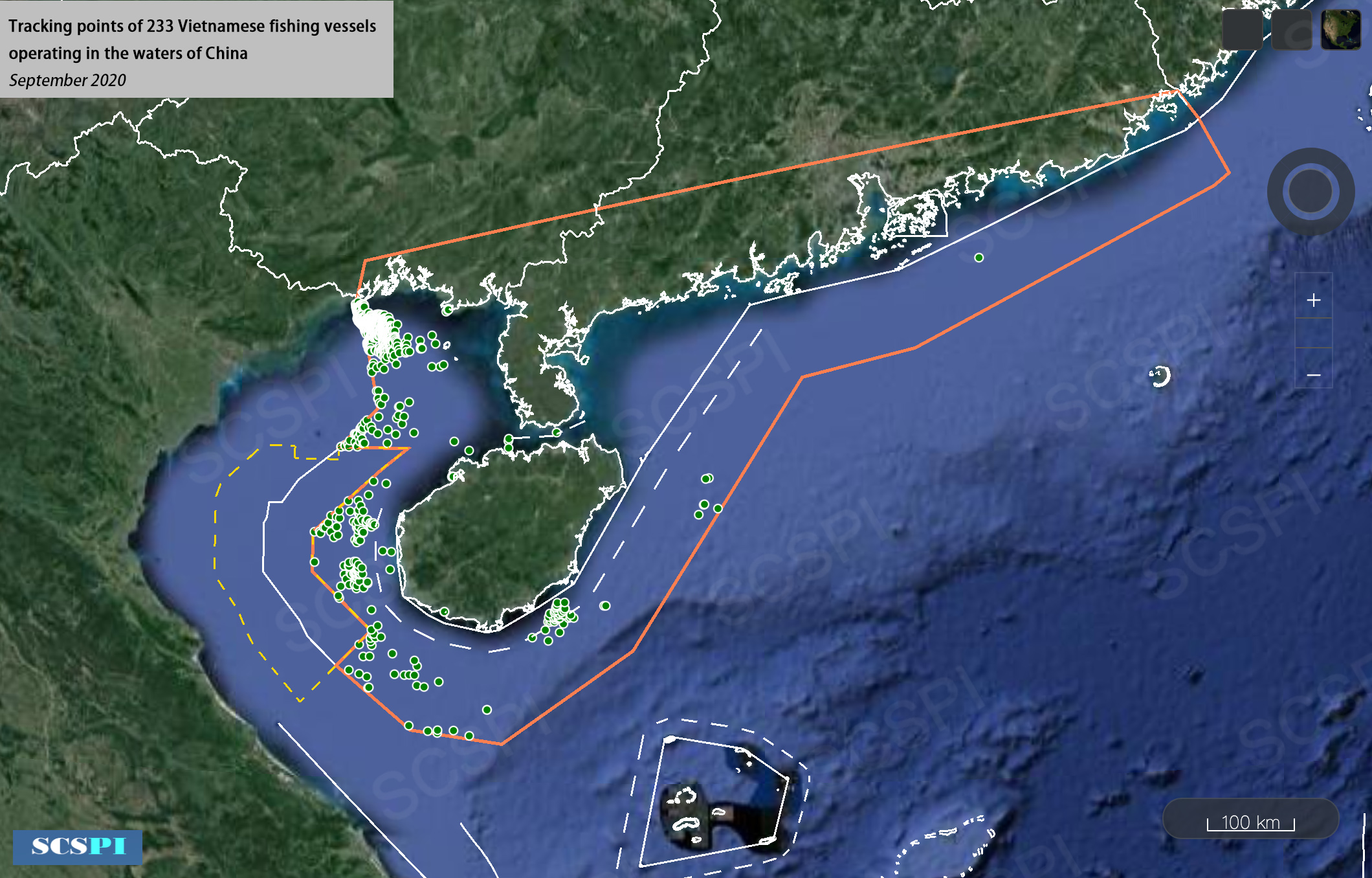 In terms of the distribution, most of the intruding Vietnamese fishing vessels gathered around the waters near the Beibu Gulf on the Chinese side. Notably, there were still a small number of them lingering to the southeast of Hainan for months, which were highly likely to be maritime militias conducting close-in reconnaissance.
From July to September, Vietnamese IUU fishing vessels in China's waters dropped for two successive months. On the one hand, the frequent typhoons in the South China Sea objectively raised the cost for Vietnamese to conduct operations. On the other hand, China Coast Guard and local fishery administration also built up law enforcement. During the "Drawing Sword 2020" special enforcement operations, a total of 1,138 foreign fishing vessels were expelled, 73 were boarded and inspected, 11 foreign fishing vessels with 66 crew were detained, which effectively cracked down the intrusion of Vietnamese fishing vessels.
However, Vietnamese fishing vessels' intrusion into Chinese waters was still serious. As the typhoons clam down and fishing season comes, the Vietnamese IUU fishing are likely to rebound again.