Share
Taking place on 10th–12th June 2022 in Singapore, this year's IISS Shangri-La Dialogue was an important one after the Covid-19 pandemic had caused the event to be cancelled in 2020 and 2021. Billed as the region's premier defence summit, it is "a rare opportunity for the United States and China to discuss a long list of disagreements and topics of common concern. As it was convened during the current Russia-Ukraine conflict, parallels that have previously been drawn by the Biden Administration between that conflict and the potential for one to arise over Taiwan have been a dominant factor, which was noted in the addresses made by State Councillor and Defence Minister of the People's Republic of China, Wei Fenghe, and the United States Secretary of Defence, Lloyd J. Austin III. These two addresses raise two main points that this article discusses, censorship of context in General Wei's address, and the inconsistencies in US Government statements concerning Taiwan , which was historically based upon US formed security demands in East Asia, creating a point of dispute that raises tensions in the region that is under acknowledged in the West.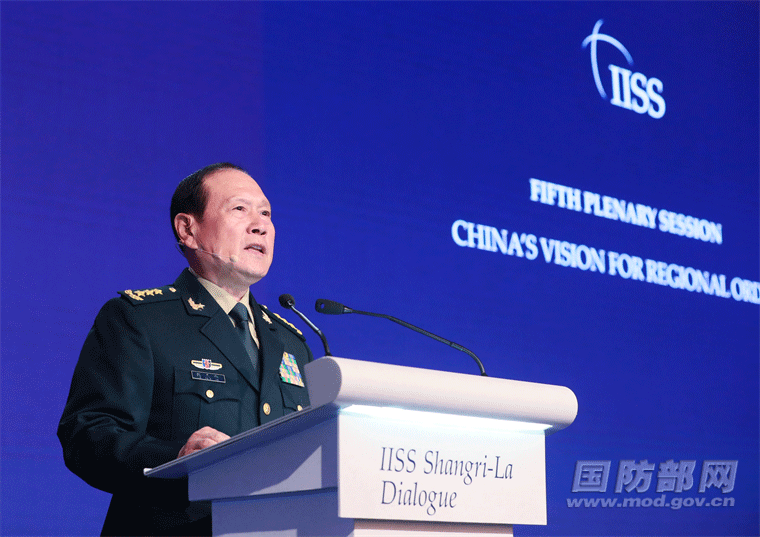 Wei Fenghe delivers a speech at the19th Shangri-La Dialogue   Source: Chinese National Defense Ministry
There is a disparity between published reports made shortly after the Dialogue by Western observers, what was said by General Wei, the context he provided, and therefore the meaning of his words. This raises questions over the international community's ability to listen and therefore understand when China (PRC) Government Officials make open and candid statements concerning long held positions. As the Global Times has noted in a subsequent report: "Wei's remark [on Taiwan] offered a detailed explanation of China's defense policy and stance and showed the China's distinctive attitude toward regional and global issues."[1] When a Senior Government Official makes a comment on such a widely-discussed topic as Taiwan and seeks to draw parallels to explain and provide context, this should be reported, allowing the reader to be better informed and reach a clear understanding, yet this has not occurred in some preliminary reporting, influencing the view of his speech in today's rapidly changing news cycles.
Despite recent changes to the US State Department's position on the islands and contradictory statements made by President Biden, Secretary Austin was clear in his address. At the Dialogue, the Secretary stated: "Our policy is unchanged and unwavering. It has been consistent across administrations and we are determined to uphold the status quo that has served this region so well for so long."[2] Secretary Austin then clarified this statement in his response to a question from Bonnie Glaser, Director, Asia Programme, German Marshall Fund: "I would just highlight that our policy on Taiwan has not changed."[3] Instead of clarity and consistency, an examination shows the US has changed its position and narrative concerning Taiwan, with inconsistencies that can be seen since the official position underwent changes during the 1950s. A brief resume of these inconsistencies exhibits how China (PRC) should exhibit concern over the issue, and reiterate its long held position, as General Wei did during the Dialogue.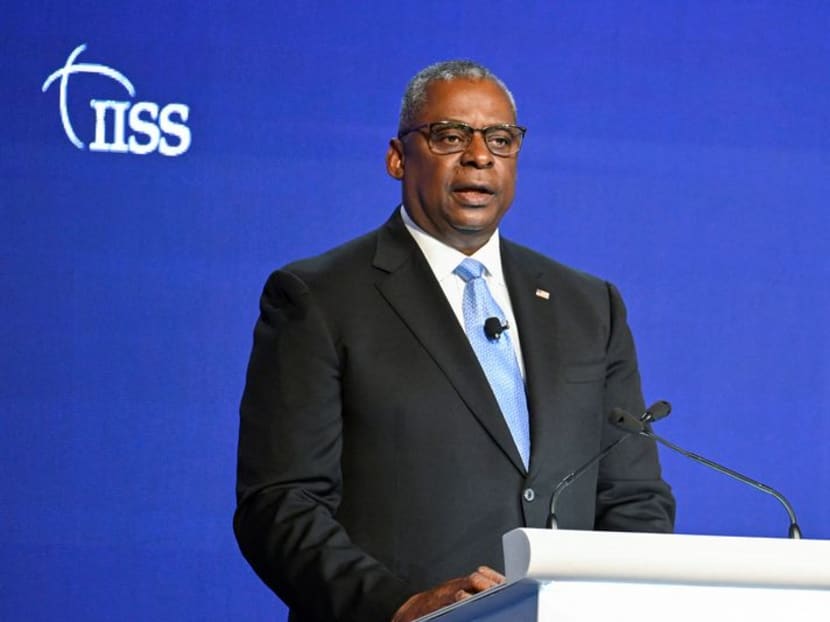 Lloyd Austin delivers a speech at the19th Shangri-La Dialogue   Source:Reuters
The US State Department and the Central Intelligence Agency (CIA) have published contradictory descriptions of Taiwan. In its Fact Sheet on 'US-Taiwan Relations', the State Department noted earlier this year that:
The 1979 Joint Communique switched diplomatic recognition from Taipei to Beijing. In the Joint Communique, the United States recognized the Government of the People's Republic of China as the sole legal government of China, acknowledging the Chinese position that there is but one China and Taiwan is part of China.[4]
This section was deleted earlier in May 2022, along with the statement that: "The United States does not support Taiwan independence."[5] In part, the wording was changed to: "The United States has a longstanding one China policy, which is guided by the Taiwan Relations Act, the three U.S.-China joint Communiques, and the Six Assurances."[6] This statement then received the addition of a US perspective missing in the prior version: "We oppose any unilateral changes to the status quo from either side; we do not support Taiwan independence; and we expect cross-Strait differences to be resolved by peaceful means."[7] Now, an update made on 28th May 2022 contains the following:
The United States approach to Taiwan has remained consistent across decades and administrations. The United States has a longstanding one China policy, which is guided by the Taiwan Relations Act, the three U.S.-China Joint Communiques, and the Six Assurances.  We oppose any unilateral changes to the status quo from either side; we do not support Taiwan independence; and we expect cross-Strait differences to be resolved by peaceful means. We continue to have an abiding interest in peace and stability across the Taiwan Strait.[8]

 
These statements are inconsistent, a view that is supported by the information published by another US Government Agency.
The World Factbook, claimed to be "the indispensable source for basic information" has a different view exhibited on its page, last updated on 6th June 2022.[9] In its Explore All Countries–Taiwan section, has a 'Country Map', a description of Taiwan as the Nationality, the Country Name in conventional long form as 'none' with the conventional short form as 'Taiwan', and that citizenship is by descent only, noting that "at least one parent must be a citizen of Taiwan."[10] There are only two mentions of the official name of the government and political entity it governs, the Republic of China, in the Background:
Taiwan came under Chinese Nationalist (Kuomingtang, KMT) control after World War II. With the communist victory in the Chinese civil war in 1949, the Nationalist-controlled Republic of China government and 2 million Nationalists fled to Taiwan and continued to claim to be the legitimate government for mainland China and Taiwan based on a 1947 Constitution drawn up for all of China. Until 1987, however, the Nationalist government ruled Taiwan under a civil war martial law declaration dating to 1948.[11]
And when the name of the national anthem is noted: "Zhonghua Minguo gouge (National Anthem of the Republic of China)"[12] By way of comparison, the name Taiwan is mentioned in a political sense (not for geographic or naming reasons) on forty-seven occasions, including the "Taiwan Armed Forces" which includes the Army, Navy, and "Taiwan Coast Guard Administration."[13] The US use of the name Taiwan in such a sense is problematic, due to the reasons for its implementation by a prior administration when China's civil war had moved from the mainland to the littoral and Taiwan, which became the commonly used name in the US from 1956 on.
Formosa is well known as the former Western name for the island of Taiwan, its Chinese name. Taiwan was popularised by the US for domestic political reasons, linking the island to the Chinese mainland as a political entity, during the 1950s, when US strategic thinking evolved into the consistent policy it continues to maintain. The name Taiwan was used due to its Japanese usage in the First Report of the United States Board on Geographic Names: "Taiwan (Formosa): Japanese island possession...Eng.[lish] Formosa."[14] In 1956, the common US narrative used the name Formosa, as John Cope Caldwell described it in his geographic textbook for juveniles, Let's Visit Formosa: Island Home of Free China: "The people who live on Formosa are mostly Chinese. And Formosa is part of China. It is the home of Nationalist China; or, as some people call it, Free China."[15] The same year, on 16th July 1956, US Deputy Assistant Secretary of State Howard P. Jones made this view an antiquated one, when in a speech delivered in Huntingdon West Virginia, he would state: "And, finally, across the South China Sea lies Formosa–more properly, Taiwan... This island is an important link in the United States Pacific chain of defence that runs from Japan through Korea, Okinawa, the Philippines, and so on down the Pacific."[16] Assistant Secretary Jones was repeating a military view developed earlier. In 1948, the Chairman of the Joint Chiefs of Staff, General Omar Bradley, noted in a Memorandum:
The United States must retain complete freedom of action with respect to Formosa to the end that that island may be used by the United States or the Chinese Nationalists as a base for the conduct of offensive operations, including possible guerrilla action, it such is required. Moreover, it must be recognised that Formosa is geographically a portion of the off-shore island chain and would be essential in the conduct of air and naval operations in the strategic defense of our offshore island chain.[17]
The reason for the US name change, from Formosa to Taiwan, was for domestic political consumption, making it 'more Chinese' in the perception of Americans after Secretary of State Dulles made a response to an objection from Dr V.K. 'Wellington' Koo:
He pointed out that it was only because we took the view that Formosa represents a problem which should be settled by international agreement that we were able to protect Formosa with the Seventh Fleet. Were we to accept the Chinese point of view our use of the Seventh Fleet would constitute an interference in China's internal problems.[18]
This US view had developed from General Douglas MacArthur's plan of action, which was based upon his requirements during the Korean War:
I felt that military necessity in the conduct of the war made necessary:
(1) the intensification of our economic blockade against China.

(2) the imposition of a naval blockade against the China Coast.

(3) removal of restrictions on air reconnaissance of China's coastal areas and of Manchuria.

(4) removal of restrictions on the forces of the Republic of China on Formosa, with logistical support to contribute to their effective operations against the Chinese Mainland.[19]
This strategic, political, and naming history is important for an understanding of General Wei's comments on the Taiwan issue during his Dialogue address, and why it is an internal affair in China's view.
When making his remarks on Taiwan, General Wei was clearly speaking to a US audience, by using US history to provide a context and a shared heritage of internal conflict perceptions. According to the provisional transcript from IISS, the remark made by General Wei was:
The United States fought a civil war [1861-1865] for its unity. Though China never wants such a civil war, we will resolutely crush any attempt to pursue Taiwan independence. Let me make this clear. If anyone dares to secede Taiwan from China, we will not hesitate to fight. We will fight at all costs and we will fight to the very end. This is the only choice for China.[20]
Based upon the history noted above, the US Government knew it was involved in a Chinese civil war and arguing against the Chinese Nationalist view for strategic reasons. However, ignoring General Wei's full remarks and the seeking of common ground and context they entailed, Ryan Haas reported in a report published by the Brookings Institute:
Wei also invoked martial language at times, especially in his comments on Taiwan. He warned that China would "crush" any efforts to achieve Taiwan independence. He warned that if others want confrontation, the People's Liberation Army would fight to the end without flinching. At the same time, Wei also paired his bluster with assurances that "peaceful unification" remains China's utmost goal on Taiwan and that China hopes for "sound, steady development" of relations with the United States.[21]
While there was martial language used at this defence dialogue on the strategic situation and other regional challenges, which is not unusual or undesirable, the portion of General Wei's remarks on why the US had fought its own civil war should not be ignored.
Other reports used similar language. Writing for The Diplomat, Sebastian Strangio made similar remarks a day later, after mentioning Ukrainian President Volodymyr Zelenskyy's speech via video link: 
The unstated point of parallel here is with China's ardent desire for "reunification" with Taiwan, a topic on which Wei also weighed with an ominous warning.

"If anyone dares to secede Taiwan from China – let me be clear – we will not hesitate to fight," he said. "We will fight at all costs and we will fight to the very end."[22]
It should therefore be of no surprise that Reuters had earlier carried a report on the Dialogue in a similar vein:
Addressing the issue of Taiwan, Defence Minister Wei said China's position on the island, which Beijing views as a province, was unchanged. He said the Chinese government sought "peaceful reunification" with Taiwan but reserved "other options".[23]
In common with the other reports quoted above, Reuters made no mention of the context in which General Wei's remarks were made.
Due to the results of the US civil war, and the developing use of international arbitration proceedings afterwards that Secretary Austin stated specifically the US supports today, common ground of a legal nature could also be found in the two addresses.[24] General Wei mentioned the US civil war, which resulted in the US being successful in an 1871 arbitration against Britain concerning the supply of armed cruisers during the US Civil War, notably the Alabama, which operated in the Pacific and Indian Ocean, the Java Sea, and the South China Sea.[25] While the US accepted the Alabama Award, it showed a blatant disregard for the 1877 Halifax Fisheries Commission Award, which, prior to the North Atlantic Coast Fisheries Arbitration (1910), found for Britain on largely the same terms, with a monetary consideration of $5,500,00.00 in gold.[26] These proceedings flowed from one another as topics of contention between the two States familiar to any student of 19th century arbitral proceedings that continues to be contentious today. From their origins in agreements made after US independence that was rewritten in 1818 due to differences in the continuation of treaties after conflict between the contracting parties, the US view of treaties and arbitral proceedings has been inconsistent and often dismissive.[27] Against this backdrop of US law and related historical experience, General Wei's context was one that made sense and should have been considered for what it was; an attempt to provide an explanation in terms the other should understand automatically based on historical relevance, and awareness of international legal doctrine that flows from contentious domestic upheavals. In the US case resulting from changes in status upon independence and the attempts of US States to cede, with a developing view of arbitral awards that could be accepted or disregarded at will, General Wei was indirectly raising questions that should be considered, if reporting had been less censored.
General Wei placed a context on his remarks that should have been understood in the context they were placed by him; they should not have been ignored. The direct comparison to the US civil war was an attempt to explain why China's view exists in ways that could be understood generally in the West, and particularly in Washington. As the PRC keeps its territorial claim alive by using legal methods, the continued issue of protest against an unwarranted continuing physical position, it is following a long held international legal principle that Western States have been conversant with since before issues related to Taiwan arose in its modern sense and aligned with China's view of itself.[28] Judge Wang Tieya has noted for example that the Warring Kingdoms Period did not contain the 'national' in the 'inter' diplomatic relations that took place, despite the political and martial disconnects at that time, "in reality there were no States."[29] This is despite US attempts to treat the issue as a question answered by fact and time that it does not observe in view of statements made concerning support for independence, as noted above. Having contemplated a declaration of war against any State that recognised the independence of the Confederacy, the US should recognise this as an attempt to engage in dialogue on common historical grounds.[30] In placing the issue of Taiwan, part of an unresolved civil war that began on the Chinese mainland, he was appealing to an audience in terms that should have been understood and given due relevance in later reports that were likely to be read by US politicians, academics, and businessmen. Drawing a comparison with the US' own history as a development of the often-repeated boilerplate statement concerning Taiwan should be considered further and widely discussed, even if people might not agree with China's statement for strategic or political reasons.