Share
Asian Times reported on May 7, 2020 that Vietnamese officials were giving serious consideration on filing an international arbitration case against China over their disputes in the South China Sea, following the same procedure with the Philippines in 2013. In fact, Vietnam has been inclined for years to do so— making short-term gains from the South China Sea issue through international litigation or arbitration. With elaborated preparation and a comprehensive plan, Vietnam is seemingly poised to bring China to court when everything is ready. However, there is no way of knowing whether Vietnam has fully evaluated the potential consequences of this reckless move, which would provoke China with its claims packaged in arbitration, disrupting peace and stability in the South China Sea, and misleading the international community for sympathy.
Ⅰ. Vietnam has been pondering over arbitration for years to threaten China
Even before the arbitral tribunal issued the award on the case the Philippines brought against China, some Vietnamese officials and experts had already argued for a similar case against China. Since the confrontation between China and Vietnam over the "Oil Rig 981" standoff in 2014 in the Xisha(Paracel) area, calls have been mounting in Vietnam for exerting pressure on China by international legal means. Then, Vietnamese Prime Minister Nguyen Tan Dung said that his government was considering various options against China, including legal actions, and instructed relevant agencies to prepare documents for legal proceedings, should Vietnam formally initiate arbitration when conditions were right.
When the tribunal on the South China Sea issued the award in favor of the Philippines in 2016, Tran Cong Truc, former head of Vietnam's border affairs committee, immediately wrote a piece in a state newspaper, claiming that the ruling provided sufficient legal grounds for Vietnam to bring China to international legal procedures. Truc wrote that the same legal argument regarding what constitutes an "island" could be used to challenge China's 200-mile Exclusive Economic Zone (EEZ) claim over the Xisha (Paracel) Islands. He also argued Vietnam could take legal measurements against China's "persistent abuse of its [Vietnamese] fishermen".
During an international conference on the South China Sea held in Hanoi in November 2019, Vietnamese Deputy Foreign Minister Le Hoai Trung made a coherent claim that Vietnam would look into arbitration based on United Nations Convention on the Law of the Sea (UNCLOS) to assert its maritime rights in the South China Sea. "Enlightened" by the Philippine's arbitration case and "instigated" by some power outside this region, Vietnam has turned a blind eye to the consensus reached by Chinese and Vietnamese leaders in the past. It wrongly perceives legal means as a robust tool in its confrontation with China on the South China Sea, under the illusion that its interests would be under better protection despite the huge imbalance of power between the two countries.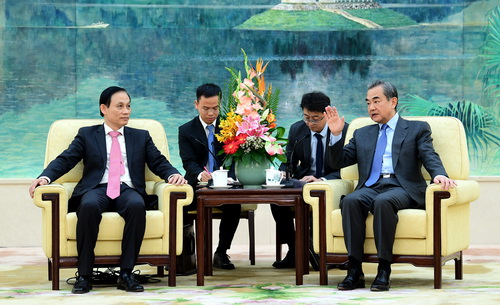 State Councilor and Foreign Minister Wang Yi of China met with Vice Foreign Minister Le Hoai Trung of Vietnam
Ⅱ. Vietnam's Pathway towards Arbitration and its Considerations
Assuming Vietnam initiates an arbitration on the South China Sea issue, it must think carefully about how to file, what to cover and when it should be submitted. It seems that Vietnam believes the right time has come.
If Vietnam initiates an arbitration, it would follow what the Philippines did by packaging its disputes with China in a deliberate way for jurisdiction and admissibility. Territorial sovereignty and jurisdiction on maritime territory of the Nansha (Spratlys) Islands are central to the disputes between China and Vietnam in the South China Sea. Should Vietnam file a case, it would raise the issues of legal status of maritime features, marine environmental protection and maritime activities. Although this approach would not fundamentally resolve the central disputes between the two nations in the region, Vietnam could take this opportunity to consolidate its illegal gains in order to maximize its interests in the South China Sea, while winning sympathy among international media through public campaign , thus laying pressure on China at the same time.
Vietnam's evaluation regarding the filing will likely be as follows: first, it may attempt to make its illegal occupation of the islands and reefs permanently, undermining China's territorial sovereignty and claims to its maritime rights; second, Vietnam believes such arbitration would provide "grounds for resisting Chinese actions, providing a basis for the international community to support Vietnam; third, it could attempt to discredit China's image -- bullying the weak and disrespectful to international law to place China in a disadvantaged position, which is also aligned with the U.S. strategic approach of containing China; lastly, Vietnam will likely hope the potential arbitration would delay the negotiations on the Code of Conduct (COC) in the South China Sea in order to extend the window for Vietnam to maximize its interests in the region. As an active participant to the COC consultation, China has proposed to settle the negotiations in three years. Vietnam is concerned that the COC might help establish China's dominant position in the South China Sea which could restrain its own illegal activities.
Ⅲ. China is not fearful of a South China Sea arbitration brought by Vietnam
Recently, Vietnam has consistently taken reckless actions, such as repeatedly making unilateral moves in disputed waters, launching large-scale construction on the islands and reefs it illegally occupies, tolerating and even encouraging its fishermen to fish in the territorial and internal waters of China's Xisha Islands, and smearing China on international platforms to provoke China. Such actions have not only impeded the COC negotiations, but also deeply eroded political mutual trust between the two countries.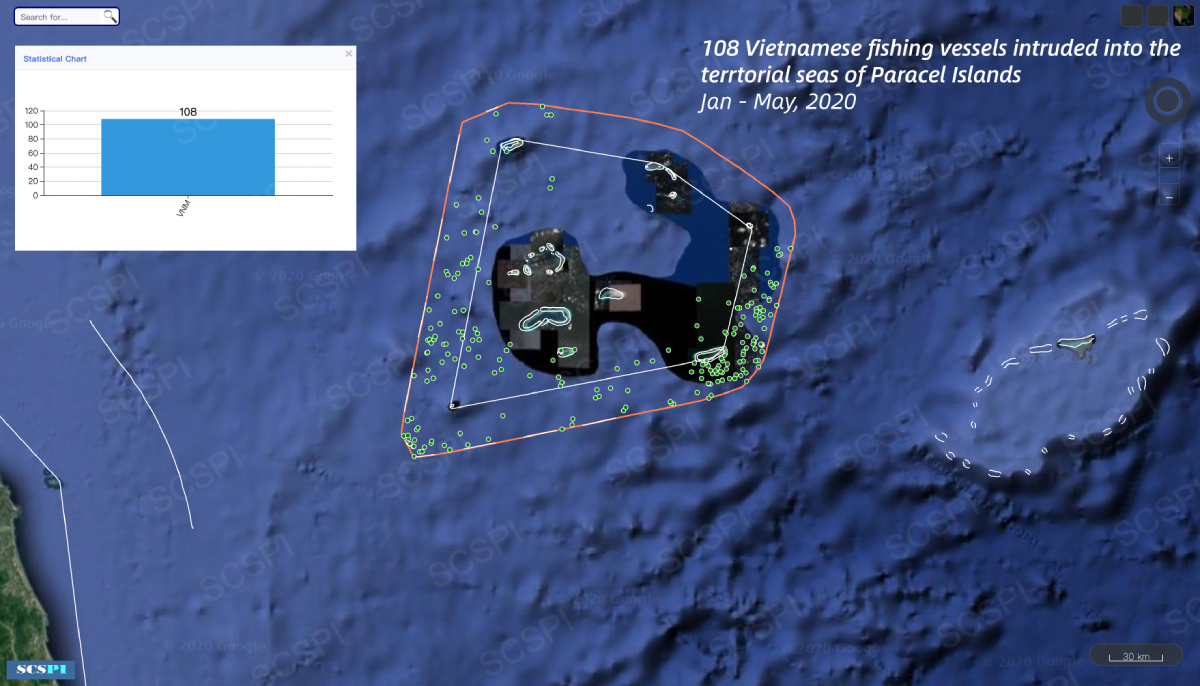 108 VN intruded into Chinese terrtorial seas of Xisha Islands
In the interest of stability in the South China Sea and the overall relations between the two countries, China has always exercised restraint to prevent disputes from escalating. However, this patience could run out soon. Should Vietnam not recognize this, it would likely pay for its unwise decision. Should Vietnam be so reckless as to submit its case for arbitration, I believe China would not stay idle.
First, China could announce the base lines of the territorial sea of the Nansha Islands. In 1996, China made public the 28 base points and the base lines connected by these points of the Xisha Islands in accordance with its 1992 Law on the Territorial Sea and the Contiguous Zone. In recent years, China has always exercised self-restraint from announcing the base lines of the territorial sea of the Nansha Islands with a good will to secure  a good relationship with ASEAN countries, maintain stability in the South China Sea and to encourage a favorable environment for the COC negotiations. Should Vietnam continue its provocations, including filing for an arbitration and posing serious threats to the territorial sovereignty and security of the Nansha Islands, China would be forced to publicize the baselines of the territorial sea of the Nansha Islands.
Second, China could get tough and crack down harder on Vietnam's illegal fishing in the waters of the Xisha Islands. In recent years, Vietnamese fishing boats make forays into the internal waters and territorial sea of China's Xisha Islands. They turn a blind eye to Chinese laws and enforcement, and even take dangerous moves against Chinese administration. Rather than educating and reining in its fishing boats and fishermen, the Vietnamese government shifted blame, stigmatized China, and even made unjustified demands for compensation. Facing such serious provocations at sea, China should take decisive and effective actions to deter these actions. China could hold accountable all illegal and illicit activities and cracked down on Vietnam's illegal fishing.
Third, China could curb and stop Vietnam's militarization process over the islands and reefs it has illegally occupied. Islands and reefs illegally occupied by Vietnam such as Nanzi Dao (South West Cay) and Nanwei Dao (Spratly Island) carry strategic value, posing a threat to Taiping Dao, Chigua Jiao, Dongmen Jiao and Nanxun Jiao and other islands and reefs controlled by China. Once the situation deteriorates after Vietnam files an arbitration, on top of further reiterating its rights and claims to the South China Sea, China would take such countermeasures as conducting regular cruising in the adjacent waters of relevant islands and reefs, intercepting and driving away Vietnamese vessels entering the waters without approval. This would cut off the logistic supplies to the Vietnamese troops garrisoned on the islands and reefs, as well curb and stop the militarization process on the islands and reefs it has illegally occupied. Further management and control measures would be taken if necessary.
Fourth, China could initiate the exploration of oil and gas resources within the Wan'an Bei block. Crestone Energy Corp., a U.S. company, and China National Offshore Oil Corporation (CNOOC) signed a contract on May 8, 1992 to explore oil in Wan'an Bei-21 block in Vanguard Bank in the adjacent waters of the Nansha Islands under the strong opposition and unwarranted harassment of the Vietnamese authorities. To prevent the situation from deteriorating and the conflict from escalating, the Chinese side shelved the contract in the end. However, to secure permanent control over Vanguard Bank and to monopolize over oil and gas resources there, Vietnam has continued engaging with foreign oil companies and conducted unilateral prospecting in the Vanguard Bank. On May 2019, Vietnam conducted unilateral oil exploration in the waters of Vanguard Bank, leading to confrontation with China. Over the years, illegal exploitation of oil in the South China Sea has become the predominant economic pillar of Vietnam, accounting for 30% of its GDP. Should Vietnam file for arbitration, China could seize this opportunity and directly enter Vanguard Bank without any "liability" to launch oil and gas exploration in Wan'an Bei block. This would be a breakthrough for China—its first oil and gas exploration in Nansha area.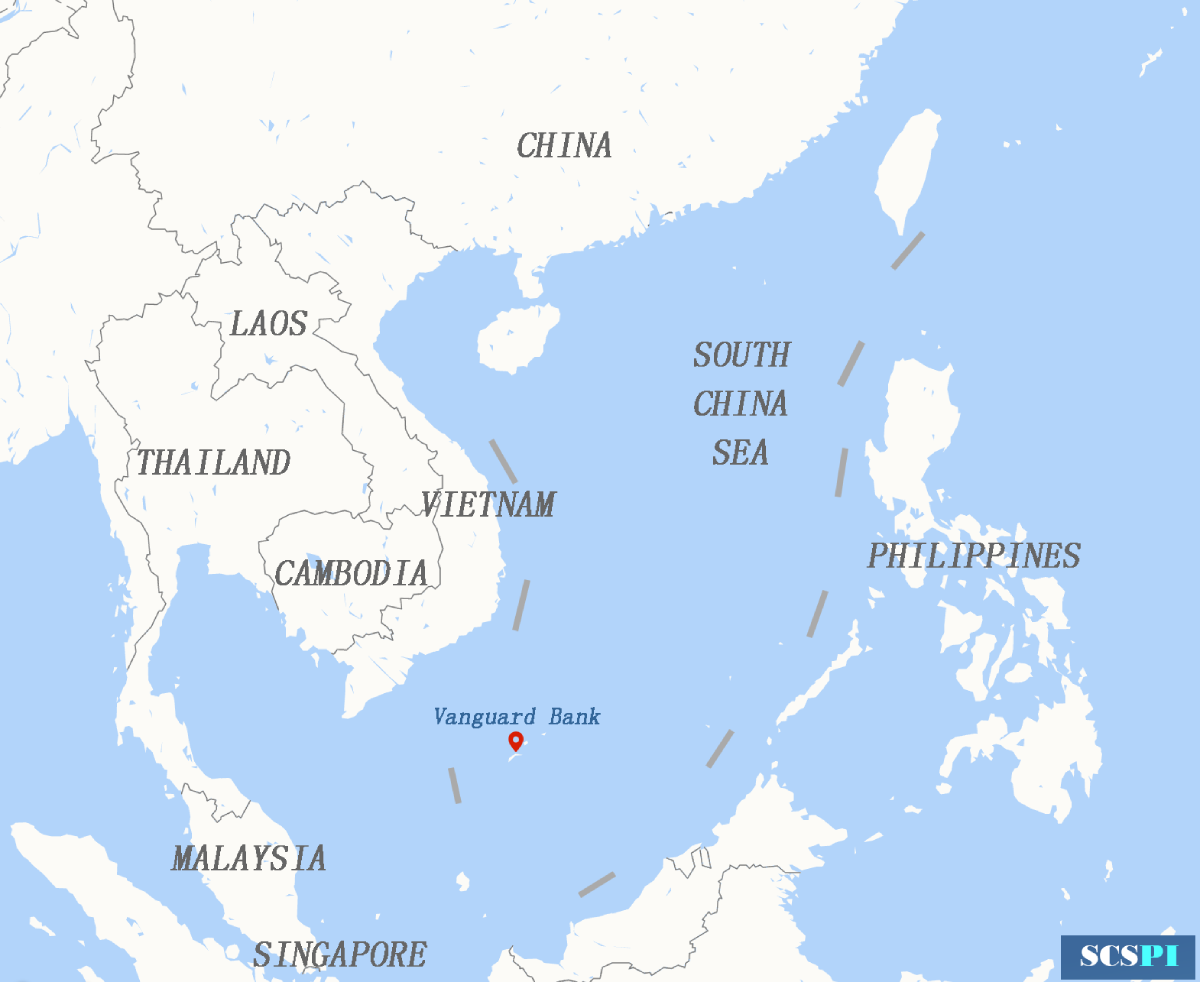 Moreover, if Vietnam submitted its disputes with China concerning the South China Sea to a third-party compulsory mechanism, it would have no impact on China's rights and claims to the South China Sea, nor would it falter its determination in upholding its territorial sovereignty and maritime rights and interests. Rather, it would stir things up in the South China Sea where the tensions have already run high. Vietnam will see setbacks in its relations with China and pay a costly price for China's unexpected countermeasures. Vietnam should think twice before filing an arbitration.