Share
In January 2020, the South China Sea Strategic Situation Probing Initiative (SCSPI) launched "Vietnamese Fishing Vessels Tracking Project". Mainly based on commercial data of the Automatic Identification System (AIS), the project aims to present truth and facts with details, and help scholars at home and abroad as well as the public to better understand this serious situation where Vietnam's intruding into Chinese waters. Reports on Illegal Activities of Vietnamese Fishing Vessels will be published on a regular basis. The following is the second report.

 

Green dots in the pictures refer to the tracks of the Vietnamese fishing vessels as recorded by AIS. Considering that not all Vietnamese fishing vessels are equipped with AIS devices and in some cases it might be turned off or whose signal could be too weak to detect, the real number of such Vietnamese fishing vessels could only be even larger and their activities more provocative.
In February 2020, a total of 311 Vietnamese vessels (counted based on MMSI numbers; it would be 330 if counted based on ship's name) intruded into internal waters, territorial seas, and exclusive economic zones (EEZs) of Guangxi, Hainan, and Guangdong provinces and conducted illegal activities.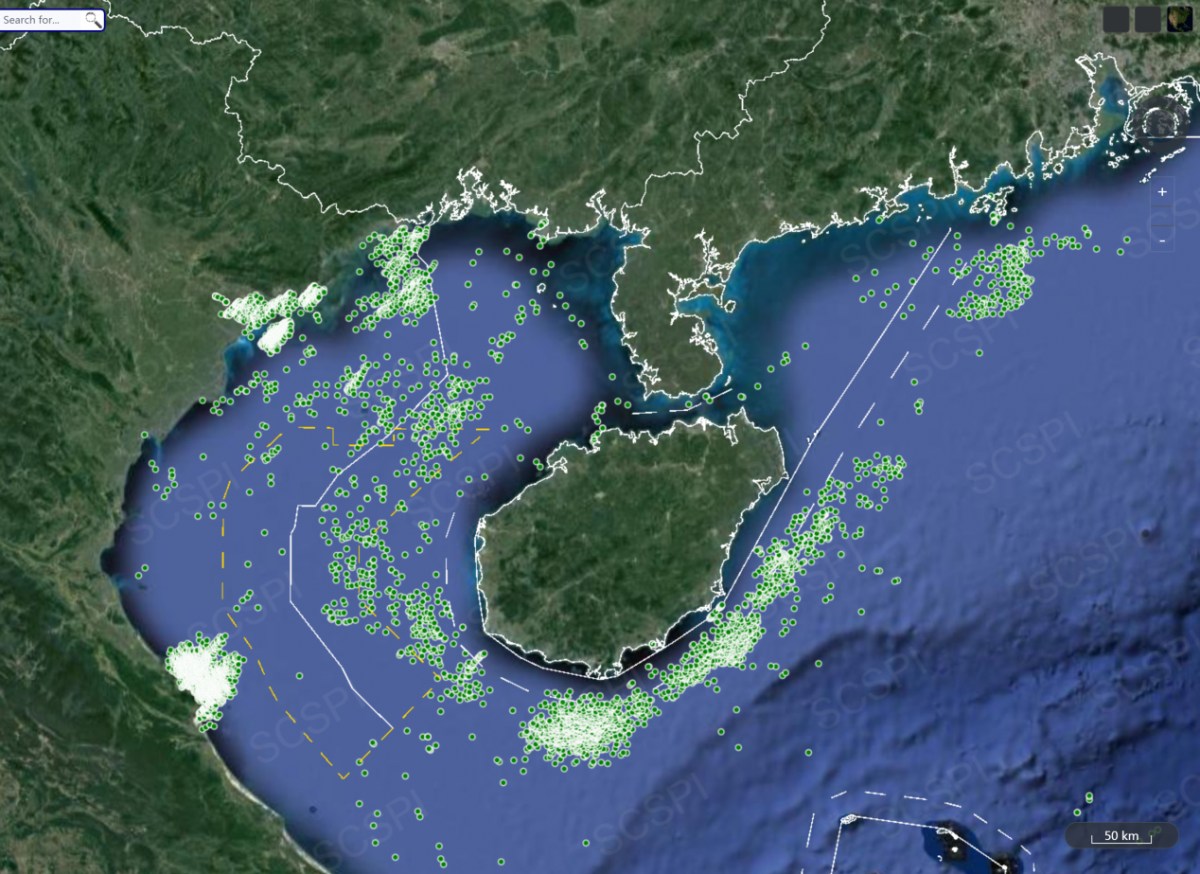 Among them, 212 vessels intruded into southeastern waters of Hainan Island, waters of Leizhou Peninsula, Zhanjiang, Maoming, and Yangjiang in Guangdong province. Another 90 or so vessels intruded into Chinese waters of Beibu Gulf (vessels on the Chinese side of the fishing area in Beibu Gulf shared by China and Vietnam have been deducted; please refer to the yellow dashed line). And 73 Vietnamese vessels were found intruding into Chinese territorial seas and internal waters; a few intruded further into areas within 12 nm of Guangxi province. Certainly, there were vessels that entered ports with consent from relevant Chinese authorities for supply or shelter. We have been aware of this kind of humanitarian arrangements, but they only accounted for a few of the total cases.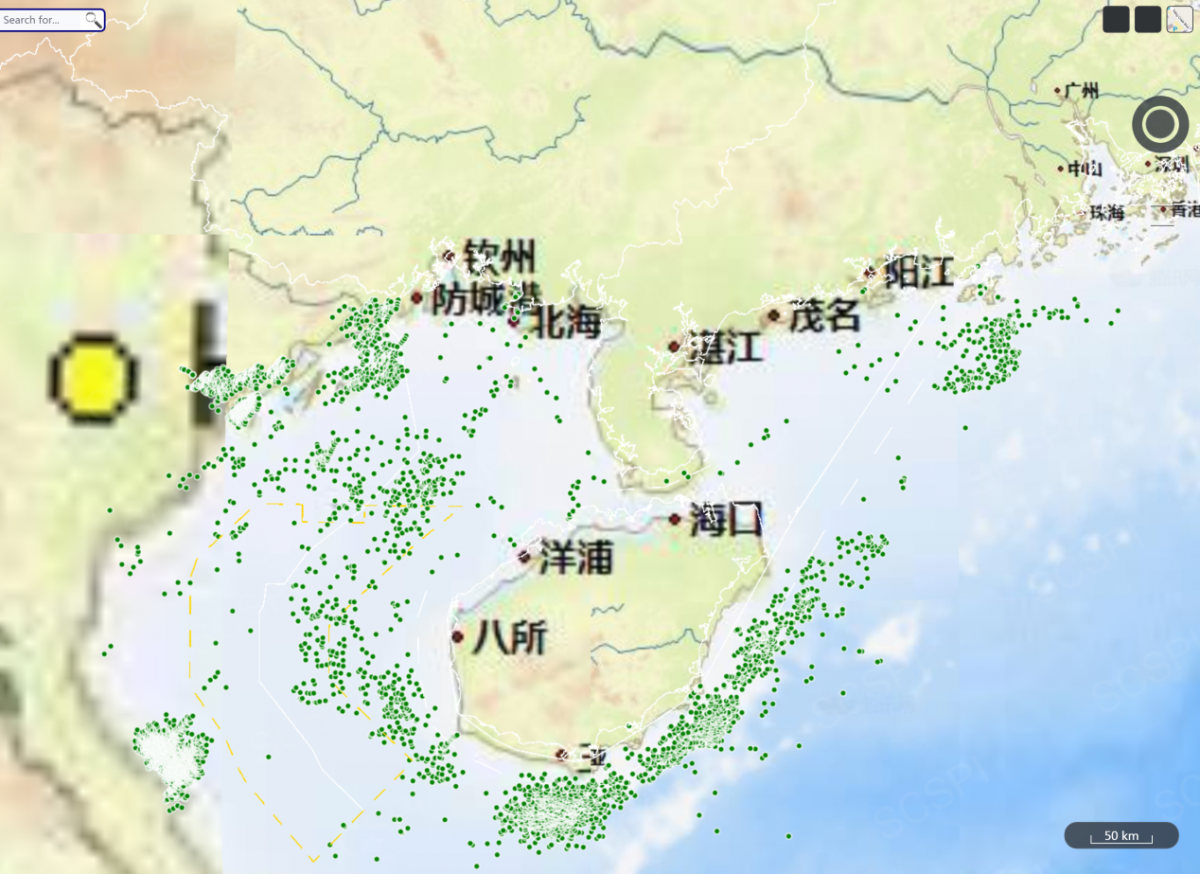 Two purposes for Vietnamese vessels to intrude into Chinese waters were pointed out in January's report: First, out of economic purpose, they are conducting IUU (illegal, unreported, unregulated) fishing activities. Second, out of military security purpose, they are conducting espionage activities with close-range reconnaissance. As shown on the map, the areas where these vessels are most active happen to be parts of important channels for Chinese Navy and Air Force ,stationed in Guangdong and Hainan, to reach the oceans. Some fishing vessels even come within the visual range of Chinese military bases.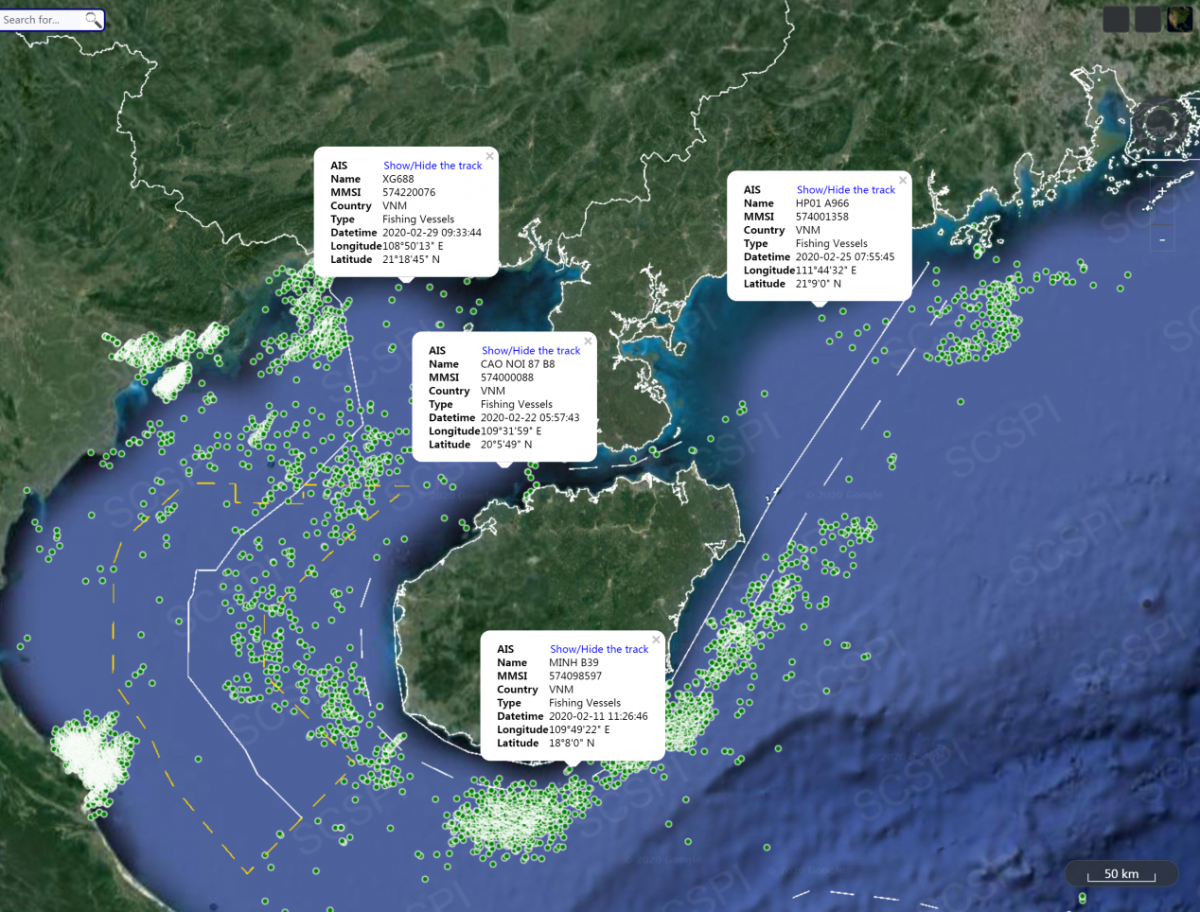 Vietnamese vessels usually gather in southeastern waters of Hainan Island, especially those areas close to the coastlines of Sanya City and Lingshui Li Autonomous County.
As it's known to all, these areas are homes to many naval and air bases. Words have long circulated among locals that Vietnamese militia members are aboard such fishing vessels for reconnaissance of China's military bases and warships when they enter and leave ports.
While analyzing the data, we found that there were lots of unstandardized and even wrong AIS information transmitted from Vietnamese fishing vessels. While unstandardized information could be caused unintentionally by casual crew members, it seemed suspicious that these vessels changed their AIS information and fraudulently used call signs of commercial and even Chinese vessels (please refer to statistics marked in red in the appendix), making Chinese front law enforcement increasingly difficult. For example, while sailing in waters near the Hainan Island from February 15 to 20, a Vietnamese fishing vessel (MMSI 574070012, 21 meters long and 3 meters wide) with the call sign TIN 90819 N T changed its call sign to SEN 66 LU0I N0I D3 as a cargo ship(188 meters long and 8 meters wide).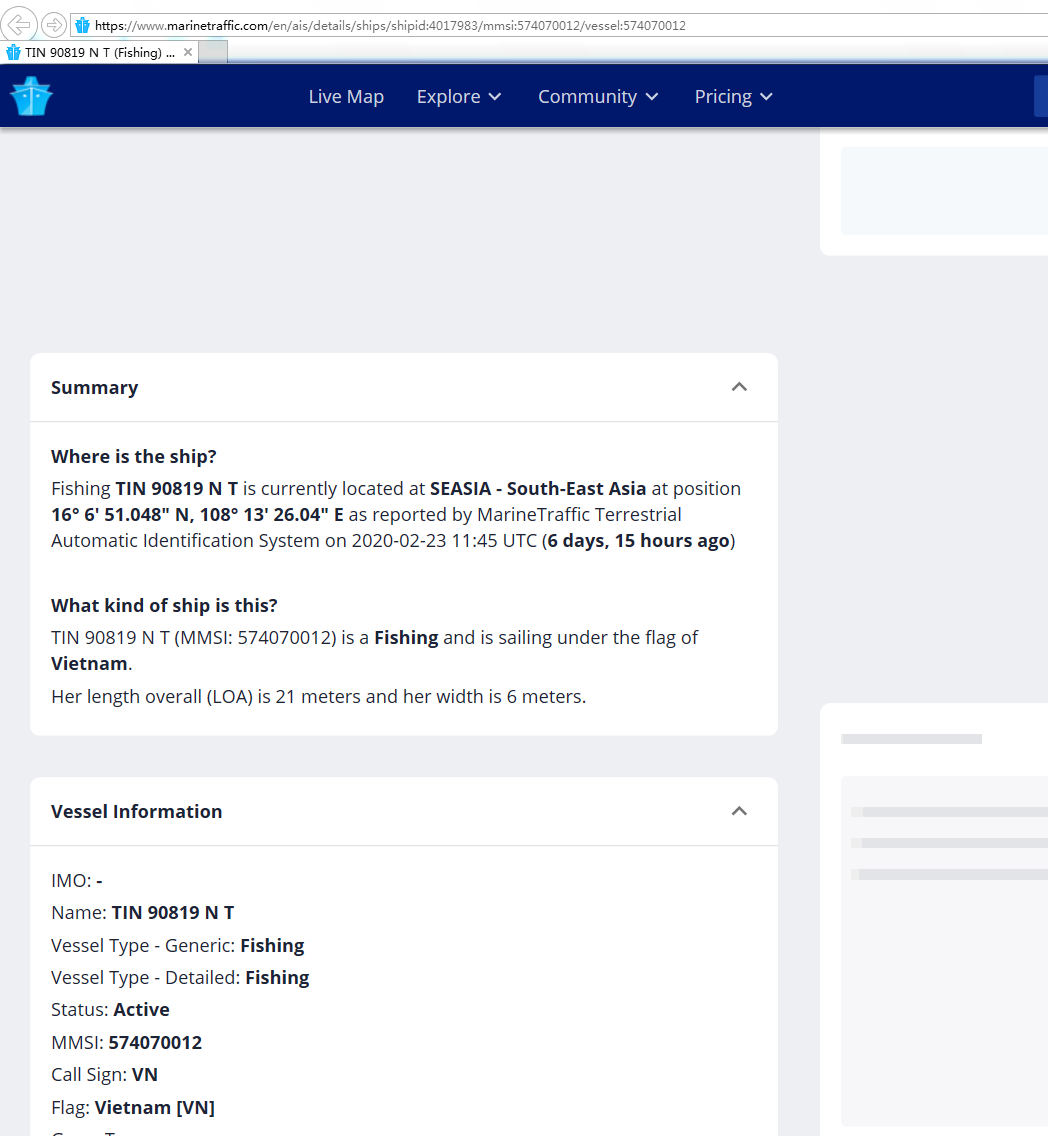 A Vietnamese vessel disguised as a cargo ship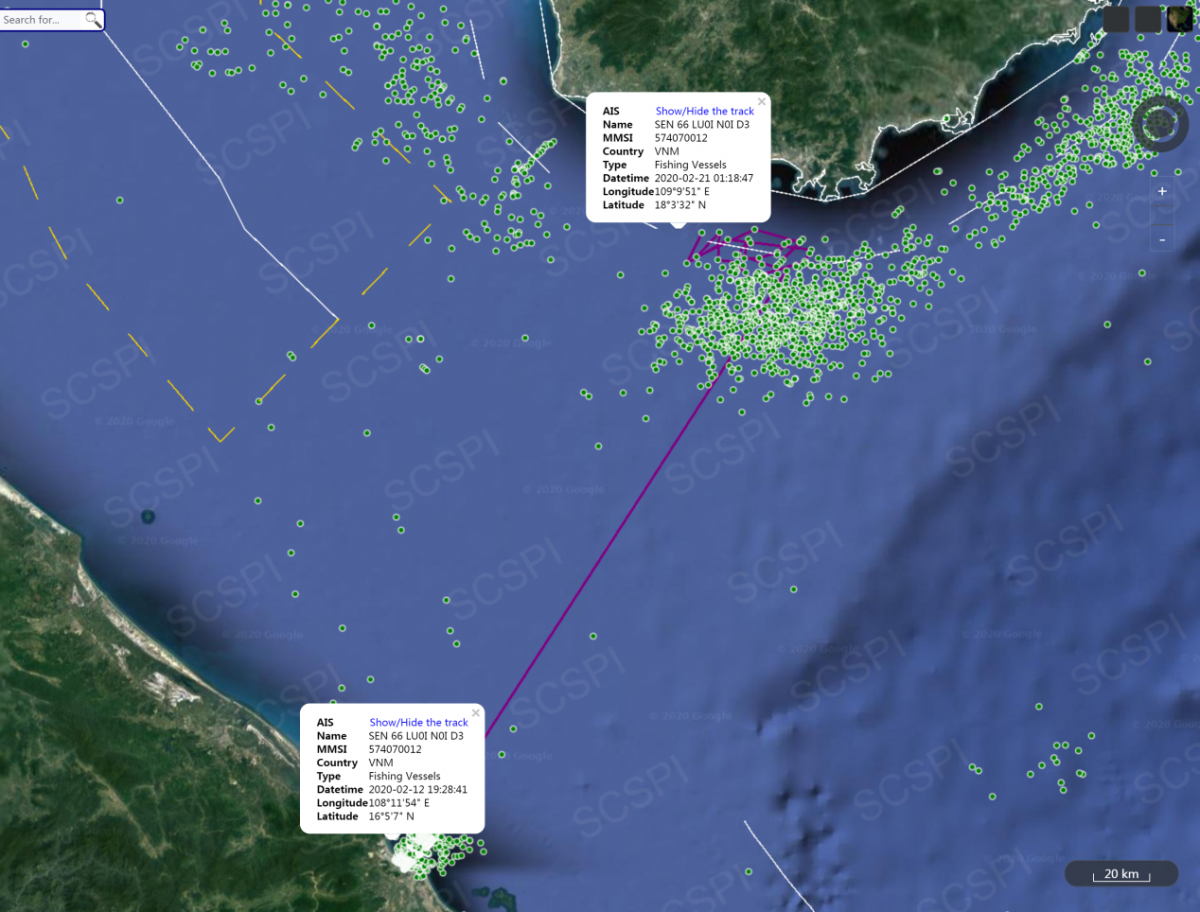 The Vietnamese intrusion into the aforementioned waters is not a new problem. In recent years, Chinese law enforcement authorities have often detained and expelled Vietnamese vessels in waters of Hainan Island:
On the morning of July 3, 2014, Chinese maritime police lawfully detained a Vietnamese fishing vessel and six crew members illegally operating within 7 nautical miles south of Sanya, Hainan Island, China.

 

On March 24, 2017, around 11:40 AM, fishery administration ship 46016 found a Vietnamese fishing vessel operating near Nanshan, Sanya, and immediately drove it away.
Clearly, in recent years, the activities of Vietnamese fishing vessels in the waters of Hainan Island, Guangxi and Guangdong have become increasingly rampant, which is on the rise in terms of numbers. More specifically, the number of Vietnamese fishing vessels with aforementioned activities in February 2020 has at least doubled compared with that in January. 
In comparison with Vietnam's activities in disputed waters of the South China Sea, the nature of these activities is even worse. It is completely a violation of China's sovereignty and security, seriously undermining the United Nations Charter, the United Nations Convention on the law of the sea and other relevant international laws, which is extremely rare nowadays. China and the international community should give close attention to it and take effective measures in response.
Appendix
---
Statistics of 311 Vietnamese Fishing Vessel Intruding into the Waters of Chinese Mainland and Hainan Island in February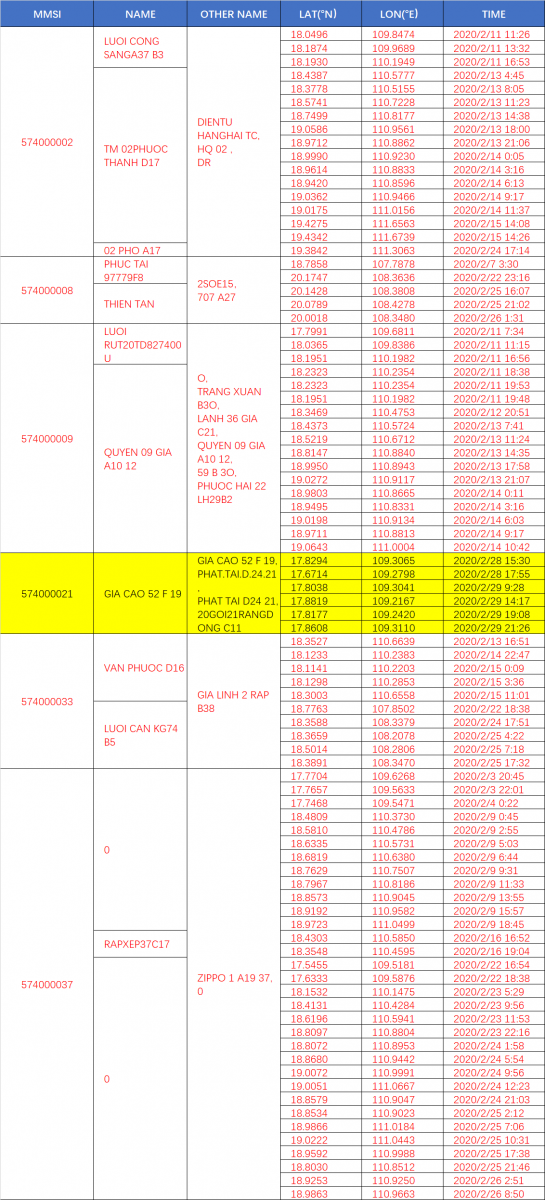 * Suspicious vessels, involved in the fraudulent use of other vessels' call signs and disguising as other vessels, are marked in red.
Vessels that transmit unstandardized AIS information are marked in yellow.
* For the complete statistics of 311 Vietnamese fishing vessels in February, please download the PDF.
Download the PDF to get the full verision of the statistics of 311 Vietnamese Fishing Vessel Intruding into the Waters of Chinese Mainland and Hainan Island in February recorded by AIS.