Share
On January 25, Littoral Combat Ship USS Montgomery (LCS-8) conducted a freedom of navigation operation(FONOP) through waters near the Johnson South Reef and Fiery Cross Reef of Spratly Islands, reported The Japan Times and Stars and Stripes on January 28 by citing US Navy. The operation had "asserted navigational rights and freedoms in the Spratly Islands, consistent with international law", said the spokesperson for the U.S. Navy's 7th Fleet.
In response, China slams U.S activities that "the US ship made deliberate provocations with evil intentions during China's traditional new year festival, which is a naked act of navigational hegemony", said Senior Colonel Li Huamin in a statement on January 28, spokesperson for the Southern Theater Command of the Chinese People's Liberation Army (PLA), "China has indisputable sovereignty over the South China Sea islands and adjacent waters. No matter what tricks the US vessels and aircraft may play, the Chinese military is determined and has the ability to safeguard the national sovereignty and security and maintain peace and stability in the South China Sea."
This is the first island-or-reef-intrusive FONOP by US warships in the South China Sea in 2020. By AIS data digging, SCSPI found more details about the operation this time.
The USS Montgomery was deployed to the Changi naval base in Singapore in July of 2019, after which it has become a key part of US patrolling and forward presence in the South China Sea. Out of consideration for confidentiality, naval vessels usually turn off its automatic identification system. The complete movement of the USS Montgomery can't be known in public. However, it could be inferred from the data at hand that, USS Montgomery sailed directly from the Changi Naval Base to the Spratly Islands, which would took it about a day and half at its normal speed.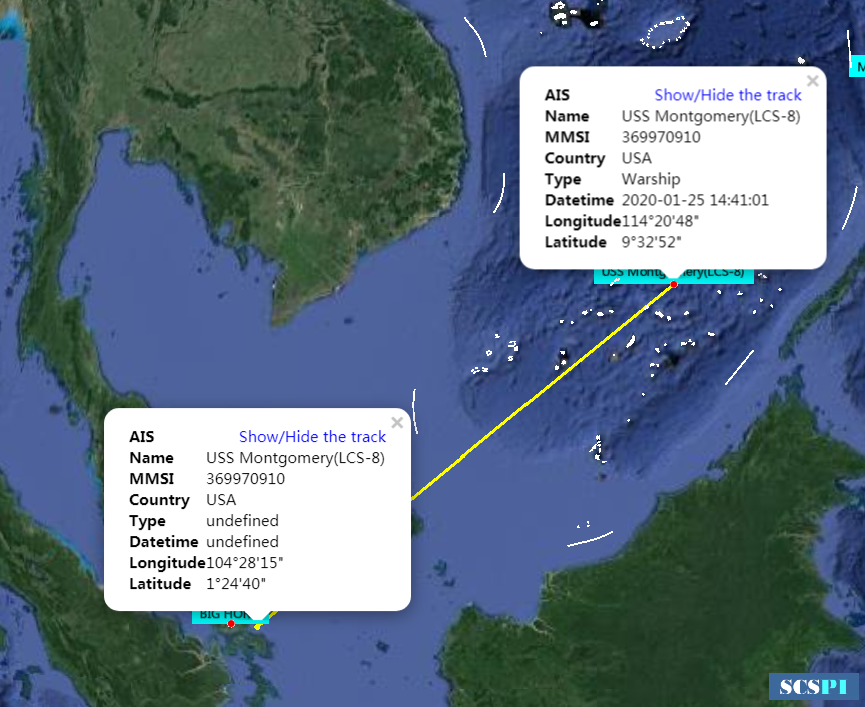 From the AIS data, it can be reckoned that USS Montgomery passed Fiery Cross Reef and Johnson South Reef in turn. The detailed activities of the latter can't be seen, while the former's activities are as follows: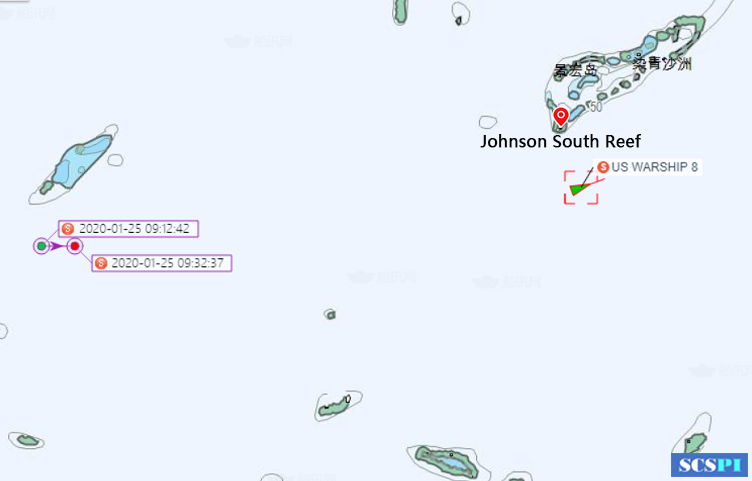 Johnson South Reef(held by China) and Sin Cowe Island (occupied by Vietnam) both belong to Union Bank & Reefs, in the southwest corner of which lies the Johnson South Reef.
USS Montgomery entered into the waters near Fiery Cross Reef at about 9 a.m. on January 25, then sailed east. From AIS data, the closest it approached Fiery Cross Reef was reckoned at 8.5 nautical miles.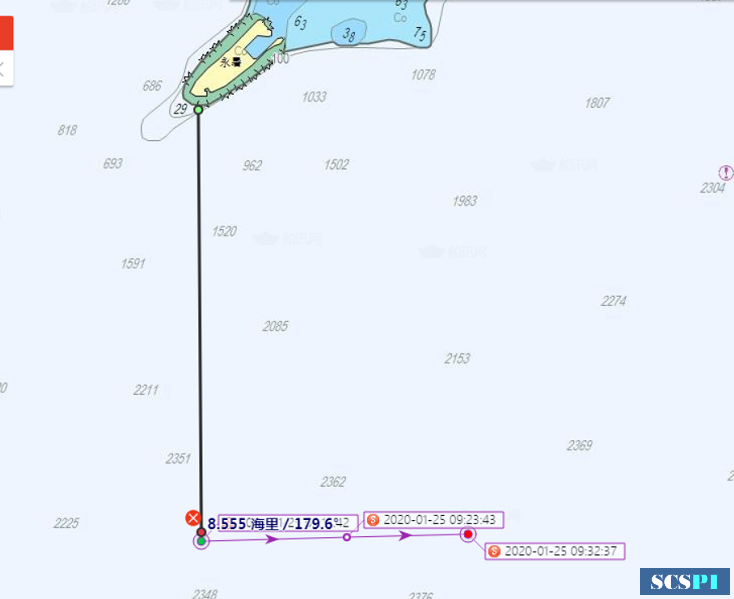 Detailed activities of USS Montgomery sailing near Fiery Cross Reef
In addition, USS Montgomery also sailed near the waters of Johnson South Reef, whose activities could possibly be more complicated, and more provocative, for the warship's AIS had been turned off.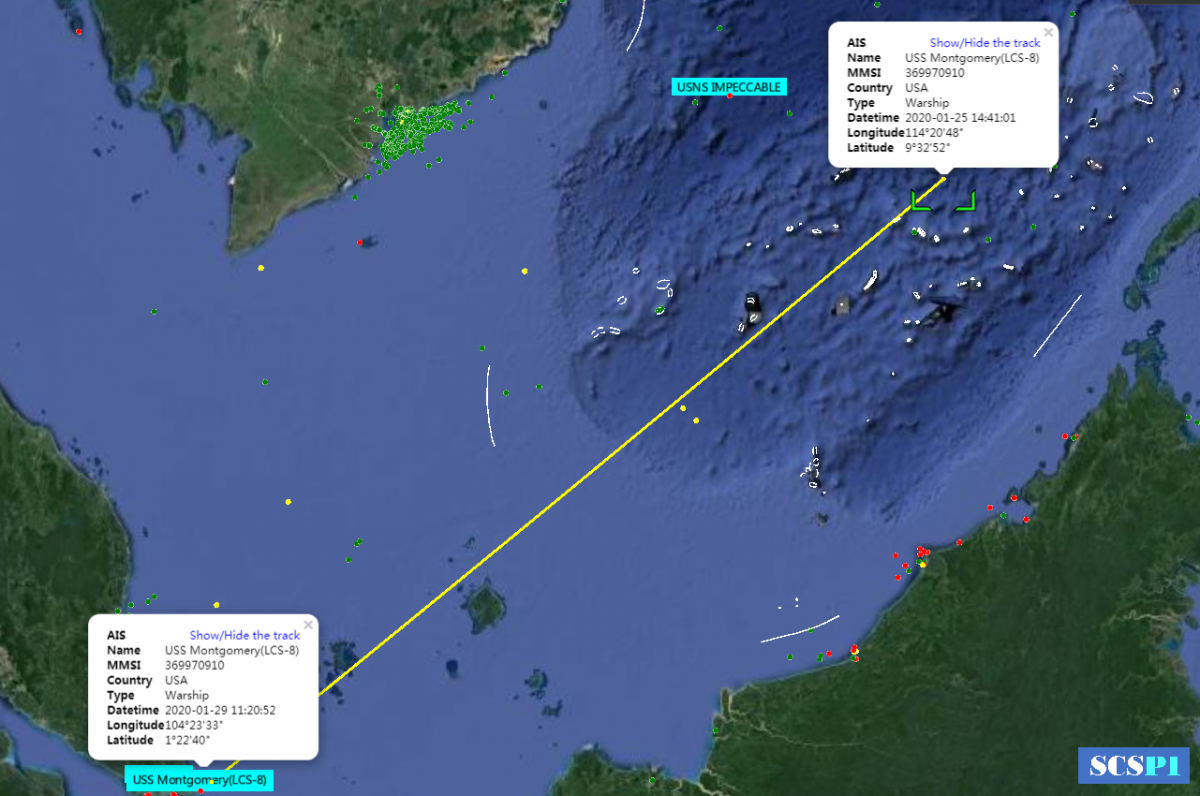 On January 29, USS Montgomery sailed back to Changi Naval Base. It carried out this FONOP so quickly that it can be seen how differently LCSs operate from DDGs and CGs on the FONOPs. Usually DDGs and CGs have multiple tasks at once and don't specialize in this kind of operation like USS Montgomery.